•



This Site is Designed & Maintained by : I-NET WORLD
Copyright © 2010 MUKESH INDUSTRIES LIMITED.
•
•
•






















































































































































































































































































































































































































































































































































Mukesh Industries Limited was founded with a sole aim of providing

BRAND high quality industrial , agricultural, pharmaceutical, civil engineering as well as household flexible pipes and hoses.

Mukesh Industries Limited is technically oriented and determined to make a larger contribution to the growing plastic industry in the years to come. Combination of technology, innovation, ingenuity and expertise over decades of application experience has enabled the company not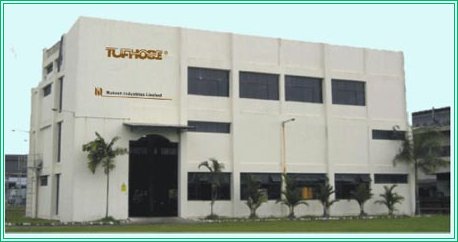 only to maintain a steady growth but also scale greater heights.

Originally the company was pioneer in manufacturing plastic extrusion machineries and its ancillary equipments since 1962, which is boosting to it's perfection in achieving excellent quality standards and reputation in market.

So Beginning with a modest plastic extrusion machine manufacturer, In 1975 Mukesh Industries Limited went on to procure world specialist

PVC hose pipe manufacturing know-how. Later on started manufacturing of PVC Braided hoses. Today, Mukesh Industries Limited is the largest manufacturer & supplier of

brand products from PVC Braided Hoses, Duct, Thunder Hoses, Halwa pipes, tubing pipes, Aspee sprayer pipes and Suction pipes in all size and ranges as well as tailored.

The manufacturing unit of Mukesh Industries Limited is located at Palghar, in Maharashtra and offers various kinds of pvc hoses for all types of applications in several markets.

With regular upgradation and expansion of manufacturing facilities along with inhouse advanced research & development facilities. Mukesh Industries Limited is well placed to continue its growth as it caters to the demands of growing industry and expanding market. Keeping abreast of the latest industry trends & products, the company extends the benefits of its energetic team's efforts and dedication to quality to all its customers. The Company uses its global expertise to enhance the competitive advantages at local cost. Qualified and experienced team of professionals works dedicatedly round the clock to provide quality industrial pipes and hoses to the clients. They are committed to their work and thereby, incorporate highest standards of ethics in their working.

At Mukesh Industries Limited, where quality is an attitude, complete quality assurance procedure ensures adherence to perfection in standards and consistency

The company believes that though physical assets and manufacturing capacity are the key to success, marketing, innovation and ideas are the routes to growth. Manufacturing facilities consist of sophisticated equipment based on the state-of-the -art technology. The equipment installed consists of well known imported makes supplemented by local ones and are conducive to yield quality products consistently.

We are backed by a sound and sophisticated infrastructure that is equipped with the latest machinery and technologies. Our manufacturing unit enables us to meet small as well as bulk requirements of the clients within a short span of time.

We are fabricated using high grade raw material that ensures their high efficiency and Widely acclaimed for durability and high resistance against corrosion. The gamut of PVC Hoses manufactured by us is widely appreciated by the clients due to their high performance, longer working life and corrosion resistant properties.

The use of innovative and hi-tech machines has helped the company in offering quality products and thus garnering a huge clientele both in the domestic and foreign markets.

brand enjoys enviable reputation in the market having over WIDE RANGE OF DEALERS spread through out the country .

With our professional as well as flexible approach,

have established a strong foothold in international markets of many Gulf countries including UAE, Saudi Arabia, Muscat, Qatar, Bahrain, Kuwait and also in Indonesia, Sri Lanka and several countries in Africa speaks of its level of product quality and services.